2021 IEEE the 6th International Conference on Computer and Communication Systems was held in Chengdu, China on April 23-26, 2021. It is co-sponsored by IEEE, UESTC, organized by Chengdu Young Academic Conference Co., Ltd., and technical assisted by many universities in the world.

On the agenda, 6 keynote and invited speakers are invited to deliver the speeches. They are Prof. Xiaohu Ge, Huazhong University of Science; Prof. Xiaojun Yuan from University of Electronic Science and Technology of China; Prof. Jiming Liu from Hong Kong Baptist University (HKBU); Prof. Yang Xiao, from The University of Alabama; Prof. Yang Yang, from ShanghaiTech University; Prof. Yang Yue from Nankai University. We'd like to express our great appreciations for them to support the conference and share their latest research for us. We do believe that all authors have learnt a lot from their excellent speeches.
Meanwhile, there are 22 authors' presentation sessions in total including 3 best student paper competition sessions, 18 regular authors' parallel sessions and 1 poster session. We also would like to express our gratitude to all committee members, who have dedicated their constant support and countless time to control the paper quality and make the conference go smoothly. Special thanks go to every author and listener, each of you brings these scratches into a book. Even in such a special situation, you also insist on attending the conference to share your good research with each other.
| | |
| --- | --- |
| Sponsors | Organized by |
| | |
ICCCS2021-IEEE | ISBN: 978-0-7381-2604-3 | IEEE Xplore and indexed by EI Compendex and Scopus already!
ICCCS2021 Onsite participants photo in Chengdu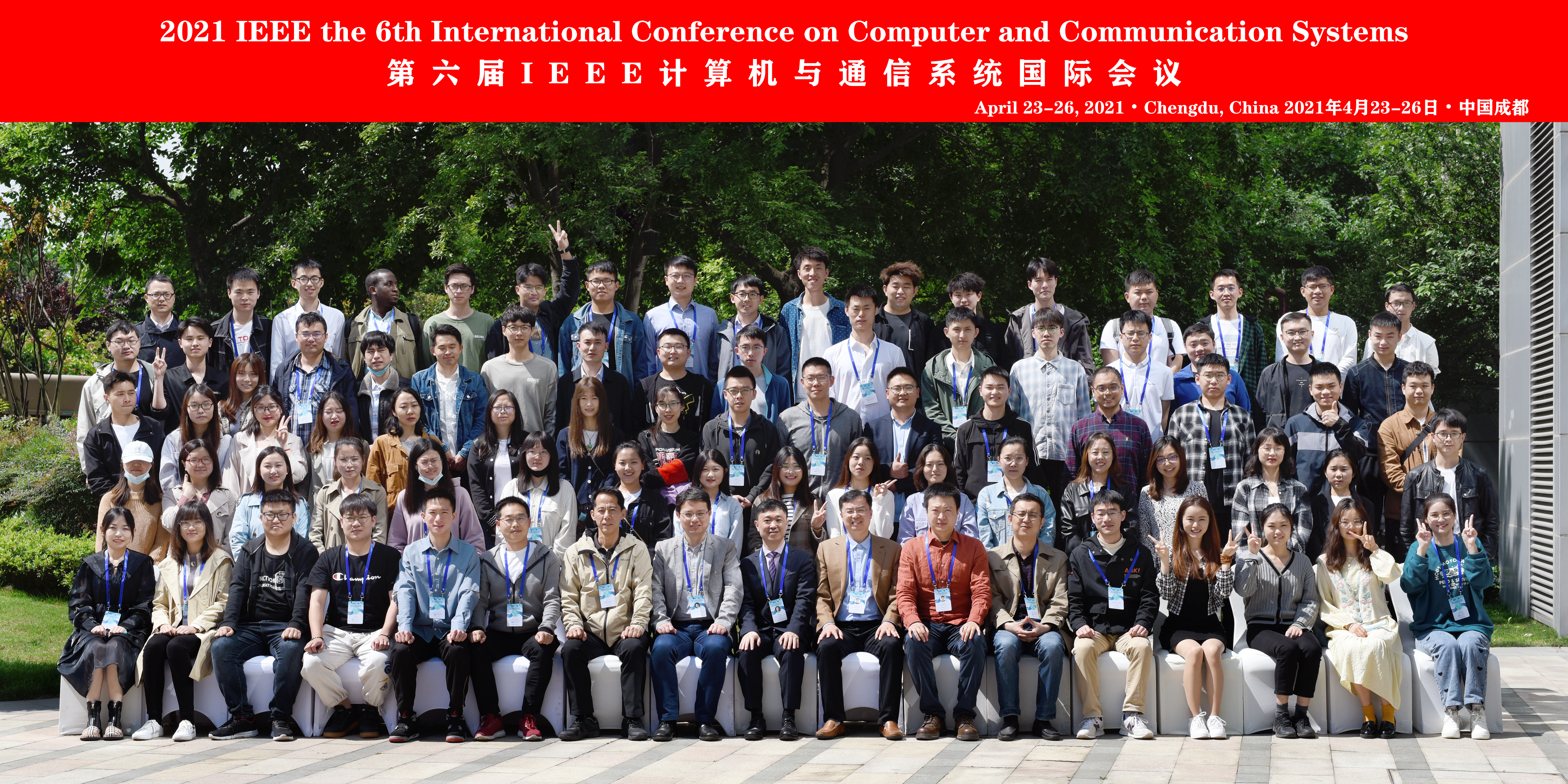 Keynote Speakers & Committee Members' representatives

Conference Chair-Prof. Bo Yang
University of Electronic Science and Technology of China, China

Keynote Speaker-Prof. Xiaohu Ge, Huazhong University of Science and Technology, China

Keynote Speaker-Prof. Xiaojun Yuan, University of Electronic Science and Technology of China

Invited Speaker-Prof. Yang Yue, Nankai University, China













Online Keynote Speaker-Prof. Yang Xiao, IEEE Fellow, The University of Alabama, USA




Online Keynote Speaker-Prof. Jiming Liu, IEEE Fellow, Hong Kong Baptist University (HKBU), China




Online Keynote Speaker-Prof. Yang Yang, IEEE Fellow, ShanghaiTech University, China

Awards (Best Papers & Best Presentations)

**Best Paper
Paper ID: S1-203
Presenter: Pingping Li,Chongqing University of Technology, China
**Best Student Paper
Paper ID: S1-043
Presenter: Mingkai Xu,Southeast University, China
**Best Student Paper
Paper ID: S1-069
Presenter: Mingjie Tang, University of Electronic Science and Technology of China, China
**Best Student Paper
Paper ID: S1-215
Presenter: Wen Qian, Peking University, China
**Best Presentation
Paper ID: S1-183
Presenter: Md Jakir Hossain, University of Electronic Science and Technology of China
**Best Presentation
Paper ID: S1-129
Presenter: Ningyuan Wang, China Academy of Space Technology, China
**Best Presentation
Paper ID: S1-180
Presenter: Yu Jin, Hainan university, China
**Best Presentation
Paper ID: S1-157
Presenter: Jia Hao, Yunnan Normal University, China
**Best Presentation
Paper ID: S1-138
Presenter: Pikulkaew Tangtisanon, King Mongkut's Institute of Technology Ladkrabang, Thailand
**Best Presentation
Paper ID: S1-102
Presenter: Jingyi Dong, Communication university of China
**Best Presentation
Paper ID: S1-060
Presenter: Zheng Zeng, Southwest Jiaotong University Hope College, China
**Best Presentation
Paper ID: S1-127
Presenter: Yuting Huang,Beijing Institute of Technology, China
**Best Presentation
Paper ID: S1-110
Presenter: Lei Zhang, State Grid Shanghai Electric Power Research Institute, China
**Best Presentation
Paper ID: S1-011
Presenter: Kassa Lemlem,University of Electronic Science and Technology China (UESTC), China
**Best Presentation
Paper ID: S1-031
Presenter: Jialu Mang,Xidian University, China
**Best Presentation
Paper ID: S1-087
Presenter: Faguo Wu, Beihang University, China
**Best Presentation
Paper ID: S1-063
Presenter: Baoguo Yang,Science and Technology on Electronic Test & Measurement Laboratory, The 41st Research Institute of CETC, Qingdao, China
**Best Presentation
Paper ID: S1-171
Presenter: Jin Jiang, Digital Grid Research Institute, China Southern Power Grid, , China
**Best Presentation
Paper ID: S1-003
Presenter: Yan Yalong, China Xi'an Satellite Control Center, China
**Best Presentation
Paper ID: S1-041
Presenter: Zhonghui Pei, Wuhan University of Technology, China
**Best Presentation
Paper ID: S1-021
Presenter: Lei Hou, Teesside University, UK
**Best Presentation
Paper ID: S1-017
Presenter: Yilin Zeng, University of International Relations, China
Photo Gallery